For the past several years, Greg Pincus has been publishing a poem a day during
Poetry Month
. This year he wanted to do something different on his
GottaBook blog
. "I wanted to create a big event celebrating children's poetry, and I wondered if anyone else would join me," Pincus said.
It's gotta be a lot easier to get 30 people to do one poem than it is for one person to write 30 poems, he thought.
So he started emailing children's poets…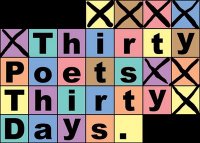 The result is the debut this month of Thirty Poets/Thirty Days. Each day in April, a new never-before-published poem for children will be posted on
Gotta Book
. The list of contributors is a veritable Who's Who of children's poetry. Jack Prelutsky, Jon Scieszka, Lee Bennett Hopkins, and Jane Yolen join the likes of Mary Ann Hoberman, Kenn Nesbitt, and Nikki Giovanni. By the end of the month, Pincus and his pack of poets will have produced an archive of fresh poems to ponder or make kids smile.
Poetry Month is a perfect opportunity to develop in your students a love of verse in its many forms. As the "principal poet" in your school, perhaps Thirty Poets/Thirty Days is an event and resource you might share with your teachers. Or you might even decide to share a poem a day during your a.m. or p.m. announcements.
Whatever you do, don't miss this opportunity to share never-before-seen poems from the most prolific of children's poets and to promote a love of poetry.
Do you or your teachers do anything special to recognize Poetry Month? Click the pencil below to share ideas that might be of interest to school readers who read our blog.
Additional Resources
Just One More Book: A Conversation With Greg Pincus
Greg Pincus explains the genesis of Thirty Poets/Thirty Days in this podcast.
Poem of the Day
A short poem by Greg Pincus.
Poetry Month: Education World Archive
Browse our archive of poetry resources, including lesson plans, activities, projects, articles, and more.
The Principal Poet
More than three dozen poems about life in school from Mr. Ivan, our own Principal Poet.
Eric Baylin's Songs to Brighten a Teacher's Day
The songs of Ed World's resident singer-songwriter, Eric Baylin, are sure to bring a smile to any educator's face.